Are Kenny Giannini Putters Any Good?
Last Updated on June 14th, 2023
We may earn commissions for purchases made through links on our site. Learn more on our about us page.
Kenny Giannini started at the Ben Hogan Company and became a master craftsman at Cleveland and Mizuno. When working at Cleveland golf, he introduced the golfing community to the first completely milled putter.
Now he is producing his line of putters, after more than thirty-five years in the industry, here in the United States and is considered among the finest putters in the game of Golf today.
To answer the question as accurately as possible, these putters are as good as Giannini designed them to be, which generally means they are of the highest quality.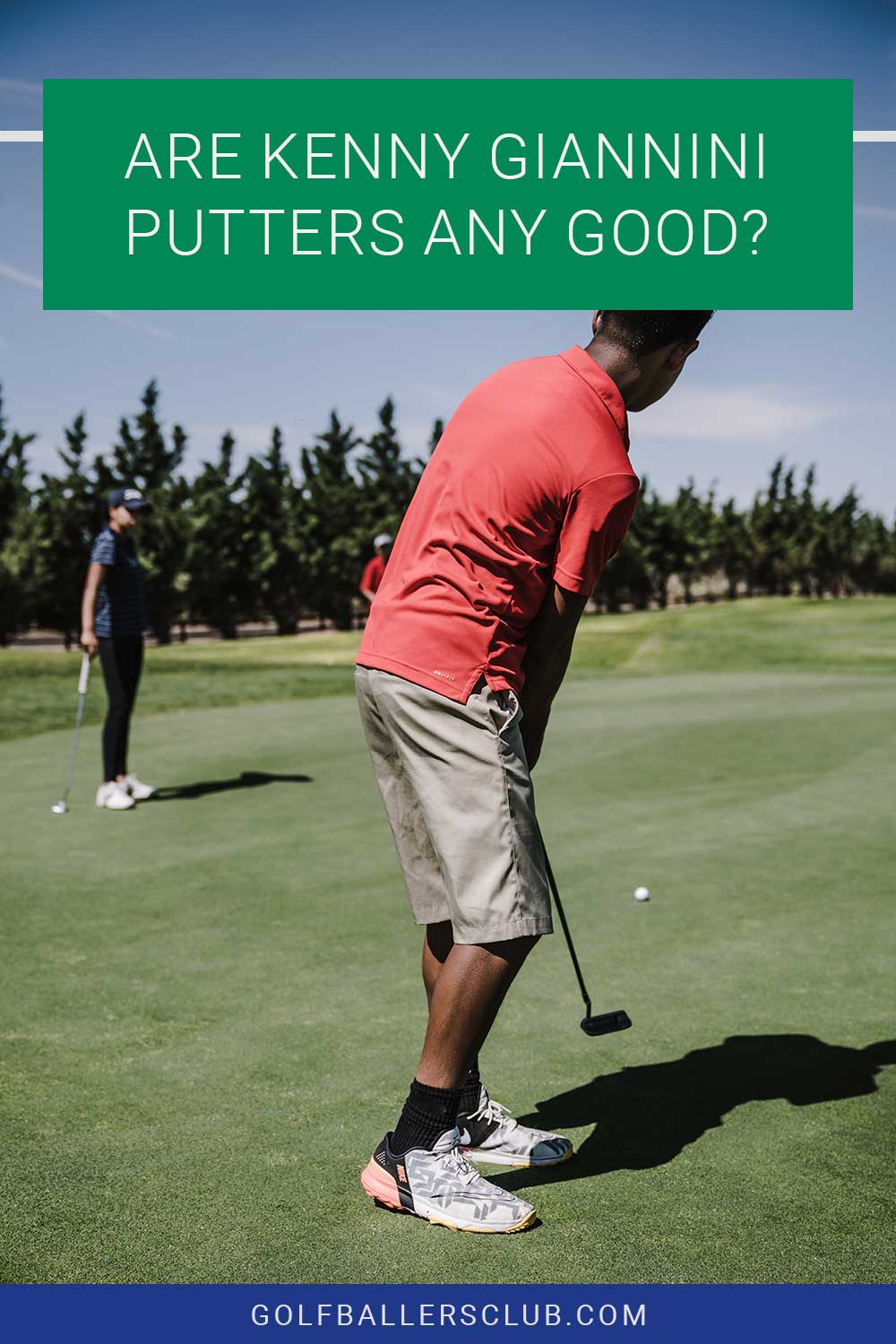 How Much Do These Cost on Average?
According to sources, the average cost of a putter from Kenny Giannini is around three hundred and forty-five dollars. There are also legacy and stroke lite models that will cost a player around eight hundred dollars.
Still, many are in the two-hundred-to-three-hundred-dollar range. So, to honestly answer the question, the averages cost will depend on these factors:
What is the age of the club? – broken down into two categories, brand spanking new club that is pricey and an aged putter with varying values depending on certain conditions.
Is this a signature putter? – meaning if a celebrity or famous athlete has used this putter, it may have additional value. Not to mention any signatures will add to the price tag.
From What Materials is it Made?
As with traditional Kenny Giannini putters, the club head is completely milled from a single piece of carbon steel. Other club manufacturers might go for metals such as brass, copper, titanium, or a zinc alloy, but Giannini stays with what works.
All know in the golfing community that solid metal makes for the ideal putter club face. Furthermore, the players, pros, and other experts around Golf will agree that steel provides that hard, solid surface.
In addition to that, unlike other metals, there is a degree of responsiveness and control with each stroke when putting with a steel-forged putter.
What are its Best Features?
Kenny Giannini says that a putter must sit flat or square on the ground. That is the most important thing, my putters; when you put them on the ground won't move, and you pick out your mark, and the putter stays firm.
This true lie on the green is due to the Giannini trademarked Soft Slotted Face Technology (SSFT), a sole slotted concept that the creator himself says is the best putter he has ever made.
Aesthetically these clubs are simple but classically finished with a finish that has no reflection back into the eyes and does not distract the golfer.
For How Long Can Kenny Giannini's Putters Last?
The average set of clubs will last an average golfer around ten years, equating to about three hundred rounds of Golf with proper club maintenance. A well-built putter, such as those made by Giannini, should last a golfer around fifteen to twenty years if taken care of.
There are examples of Kenny Giannini putters that have lasted players over twenty-five years and could potentially be suitable for more years. So to put it a blunt friend's way of saying, these clubs should last you the rest of your life.
If you, or your spouse/friend/family member, will spend hundreds of dollars to buy a putter from Giannini, you should have a putter for life.
Who Should Buy These?
Certain golfers are out to enjoy the game; however, they are not looking to become professionals at the game and are not ideal customers for these putters.
The people that would appreciate a putter like these would be the casual weekend golfer, the amateur who is looking to make it to the next level; the collegiate, Olympic, and pro tour athlete looking to make a statement.
Or even better, the parent or grandparent that loves the game of Golf.  Then you have the family member, girlfriend, boyfriend, or spouse looking to make their golfing enthusiast partner happy with a high-quality gift from Kenny Giannini.
Final Thoughts on Are Kenny Giannini putters any Good
There are legends in the game of Golf that have carved out a legacy that has changed the landscape of Golf itself, changed the way a clubface attaches to the shaft, and even how those clubfaces are designed and react when striking the ball.
Kenny Giannini is one of those creators that have crafted art into the game itself and done it through experience and passion for the game.
The putters produced by Giannini are the works of a master artisan; They should be regarded as a top-quality clBut, as. As I like to remind you, my friends, do a little research before selecting a model of the putter, these are expensive pieces of golfing equipment.