Are Mizuno MP30 Clubs Forgiving?
Last Updated on June 14th, 2023
We may earn commissions for purchases made through links on our site. Learn more on our about us page.
Mizuno is a company that provides everything from putters to Drivers and other golfing equipment. But, when it comes to the progressive cavity back or the MP30, it has a soft face and is going to be one of the more forgiving clubs available on the market.
Forged in Japan, Mizuno irons are known to have quality metals and results when it comes to their irons and wedges.
These versions of clubs have been on the market since the early two thousand, and for the average or casual golfer, these will be a nice addition to the weekend bag.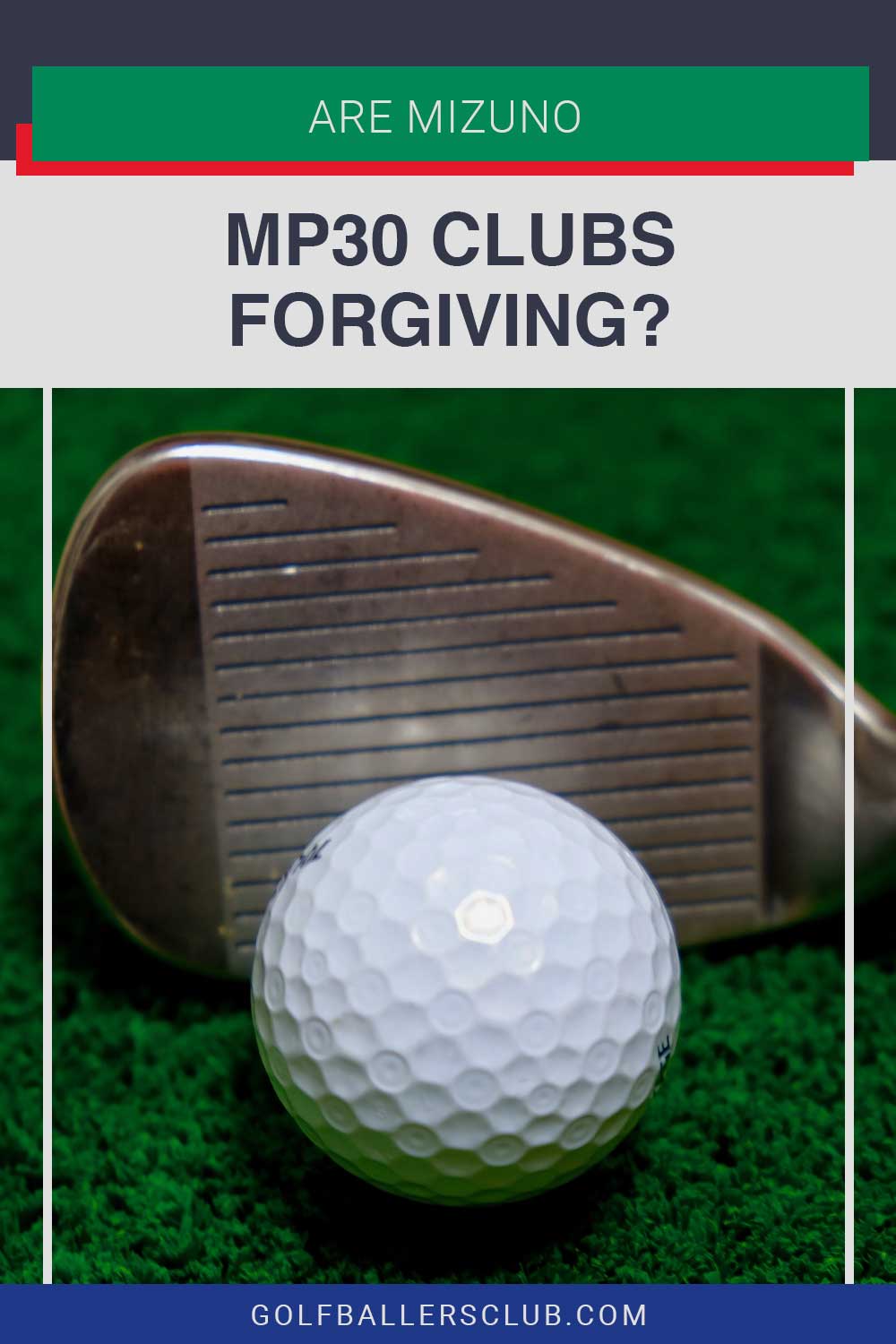 Is this a Good Choice for Beginners?
There will be clubs that might work better for someone just starting out, but with that being said, these Mizuno irons will be a nice set to begin with.
In addition, there are vintage sets still out on the market that will be more affordable than a brand-new set of irons, with whole sets available on auction sites for less than one hundred dollars.
As a matter of fact, these might be a perfect fit for those players looking to move past the discount rack club sets and begin playing with quality crafted irons and wedges. The next step would be to find a comparable putter, a set of woods, and a Driver.
Does it have More Forgiveness than the Other Models?
Mizuno is a technologically driven manufacturer that will provide some of the higher quality irons and wedges on the market. They have been known to make a good driver and putter if a golfer is interested in completing their set.
For the most part, not all clubs are designed to have a soft face. On the contrary, many designs call for stiffer impact to increase spin or control.
This makes the MP30's all the nicer of a selection for young and inexperienced players, as it will reduce the damage from a mishit or bad swing.
What are the Best Features of the Mizuno MP30?
Besides the classic Mizuno sleek irons look, the best overall feature will be the consistency when striking the ball.
Many players have said that even after moving on to another set of clubs, they will resort back to the comfort of a reliable set of irons, meaning the MP30 irons and wedges.
After making it through the ages, this line of irons will also offer another layer of forgiveness and a soft feel upon the moment of impact, and the results speak for themselves.
Players using these irons have all exclaimed about the improvement in their scoring, and the approach shot results.
What are Mizuno MP30 irons Made with?
Mizuno, and the art of forging, have become synonymous with the company trademark Grain Flow Forged clubs and the quality metals used in the process.
Throughout the creating and forging process, experts will preserve the metals' natural grain and incorporate it into the club's design.
Using a mixture of 1025 Mild Carbon Steel to 1025E Pure Select, with Boron infused steel and Chromoly forged metals, which will start as a billet that will get stretched and bent into shape.
Next will be the primary for print, followed by a cookie cutter stage, along with the precision forging stage, and finally, a polish step that removes any sharp edges and gives the club its final finish.
What are Its Flaws?
As with any older technology club, there is going to be a lack of new features to aid a golfer out on the course. However, Mizuno has since released the newest of its products, including the JPX923 series, which takes their quality to a new level.
Beyond that, aging will be the biggest issue that a golfer will experience when it comes to using the older model set of irons.
There has been mentioned, by those that have played with these clubs, that the softer face does scratch easier and will need a certain extra level of care to keep in good shape.
Final Thoughts on Are Mizuno MP30 clubs Forgiving
Mizuno is a quality irons and wedges manufacturer, and it would not go amiss if a golfer chose to use these for their golfing needs. This Japanese company does have a reputation for creating samurai-quality forged irons and wedges.
For those needing a set of irons to replace the discount rake and patched-together bag of clubs, the MP30s from Mizuno will be a perfect fit. Especially for those wanting to become better at the sport and improve their scores on the golf course.
These can be found at second-hand sports stores and online through auction sites and retailer web pages.