Bombtech vs. Stix
Last Updated on June 14th, 2023
We may earn commissions for purchases made through links on our site. Learn more on our about us page.
When it comes to the golfing world, there are loads of professional names and companies that are household names. Unfortunately, Bombtech and Stix are two of which are not the more prominent name brands.
Stix was started after the turn of the millennium to create and manufacture high-quality golf gear with a premium club feel and performance at a reasonable and fair price.
Bombtech was born out of necessity; after pushing the limits of human golf ball driving ability, and many broken drivers to boot, the company produced its first Driver in 2012.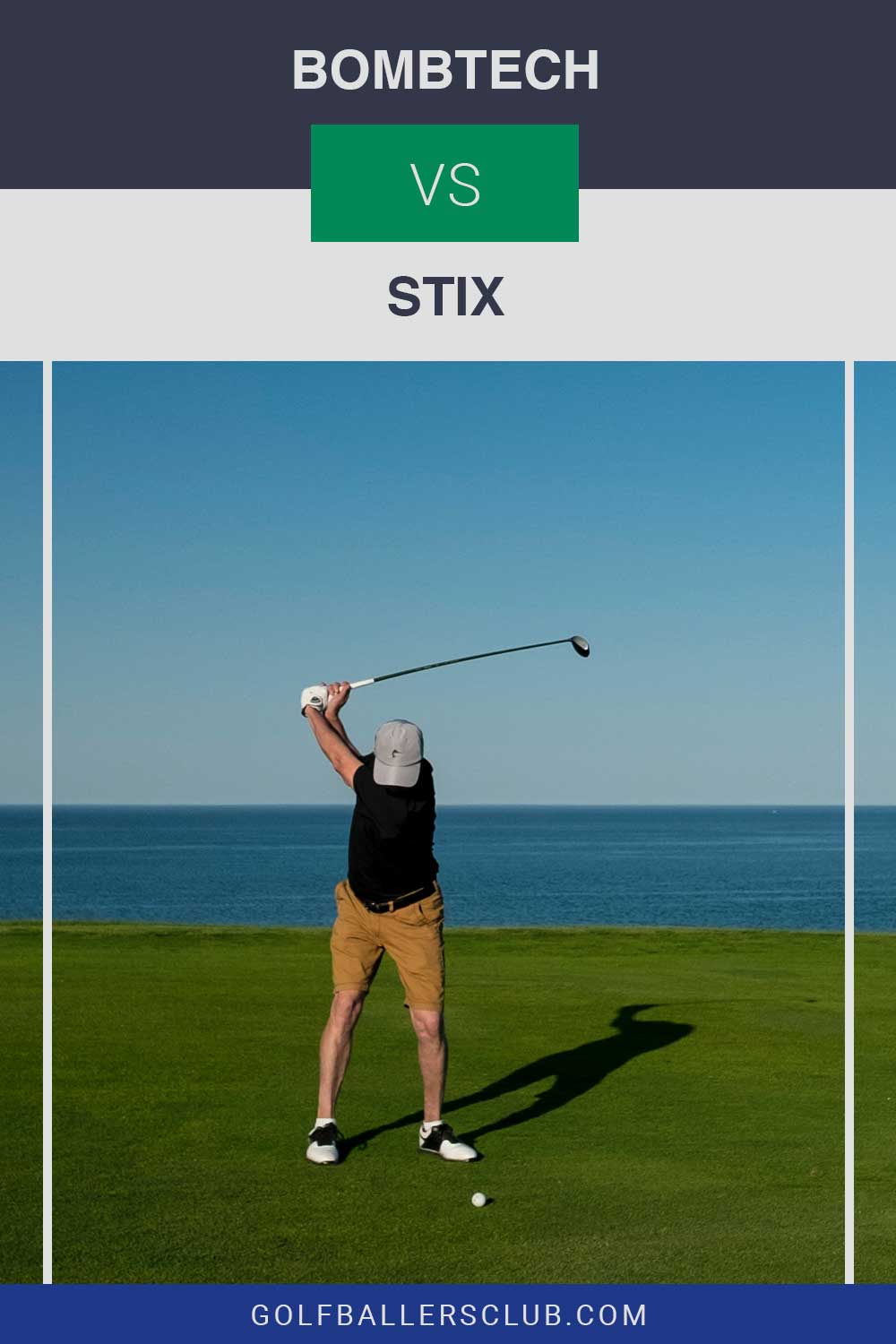 Which One is More Popular?
There are few ways for smaller companies to make a name for themselves, especially when the major manufacturers produce the high-quality gear most golfers are looking for.
So the way Bombtech went about it was to create drivers that smash the golf ball further than any other driver on the market.
This has made them slightly more popular than Stix because of the Bombtech team of designers and engineers delivering driving performance. One thing to say about Stix Golf, they have one of the savviest app/website combos in the golfing industry.
Which One has Better Quality?
This can be answered in two parts; first, the Bombtech drivers 2018 had sold over one hundred and fifty thousand units.
The Driver was so successful that now, the company has expanded to manufacturing all the clubs (putter exempt), which speaks to the quality of the product.
Stix golf was built with the idea in mind to create high-quality, high-performance clubs at a price that a blue-collar man could afford. The quality of these clubs is meant for recreational golfers and, at the same time, have the feel the pros clubs have.
Pros and Cons: Bombtech vs Stix
These two brands are a pair of unique cases; the Bombtech drivers are a possible game changer in the bag with the ability to bomb (pun intended) the golf ball down the fairway, changing a par into a birdie.
The only issue is that the rest of their clubs are new, not entirely up to scratch with other major manufacturers, and could end up causing a problem during the next eighteen holes.
Stix golf has affordable clubs that are up to scratch for under-par play and have been designed with sleek, high-performance clubs. Cons are that the company is only a few years old and will need a few years to mature into a full-blown manufacturing company.
Price Range: Bombtech vs Stix
Looking at MSRP, second hand stores, and online auction prices, a set of Stix golf clubs will run a player between two hundred and fifty to over one thousand dollars. Single hybrid fairway woods range from one hundred fifty to more than three hundred dollars.
Bombtech will be on the cheaper side of the market; complete sets of irons will cost as much as a Stix hybrid or fairway wood. Yet, some higher-end drivers will also run around one hundred to one hundred and fifty or so dollars.
Final Verdict on Bombtech vs. Stix
Stix Golf company is the new kid on the block, getting their start in 2019; they have hit the ground running with an intuitive app/website approach to marketing and support. They have higher quality clubs with high-tech designs but at a cost.
Bombtech specializes in Drivers and getting distance off the tee, and the other clubs have some catching up to do.
Most sets of irons from Bombtech will stay under two hundred dollars, but if you are looking for a solid driver that might shave a stroke or two off your game, look no further.
The ideal mesh of these two would be a set of irons from the Stix Golf company and a Driver from Bombtech. Otherwise, these two will have different pathways to a golfer's bag for their next eighteen holes.
The Bombtech driver technology is top-notch when a player is looking for more distance from each drive, and it will not cost an arm and a leg to get it.
Stix has come out of the gate with a sleek minimalistic approach to design and engineering, and the golfing community has responded positively.
A player would do well to test both of these products, bomb a drive with the Bombtech Driver and take a wack with the irons from Stix.