Does Bridgestone Make Good Irons?
Last Updated on June 14th, 2023
We may earn commissions for purchases made through links on our site. Learn more on our about us page.
When most people hear the name Bridgestone, they think of the racing tire company, but even more surprising than this company making golf clubs would be their improved design actually has helped mid-handicap players.
Since 1935, founder Shojiro Ishibashi has had the motto 'Serve society with superior Quality,' which has translated to the racing tire and golfing industry.
To start, this company made golf balls, but in 1972, Bridgestone expanded into making bot clubs and other golfing equipment.
Today, the manufacturer is considered a quality company, even so much so that Tiger Woods, amongst other pros, has become part of the Bridgestone Golf team.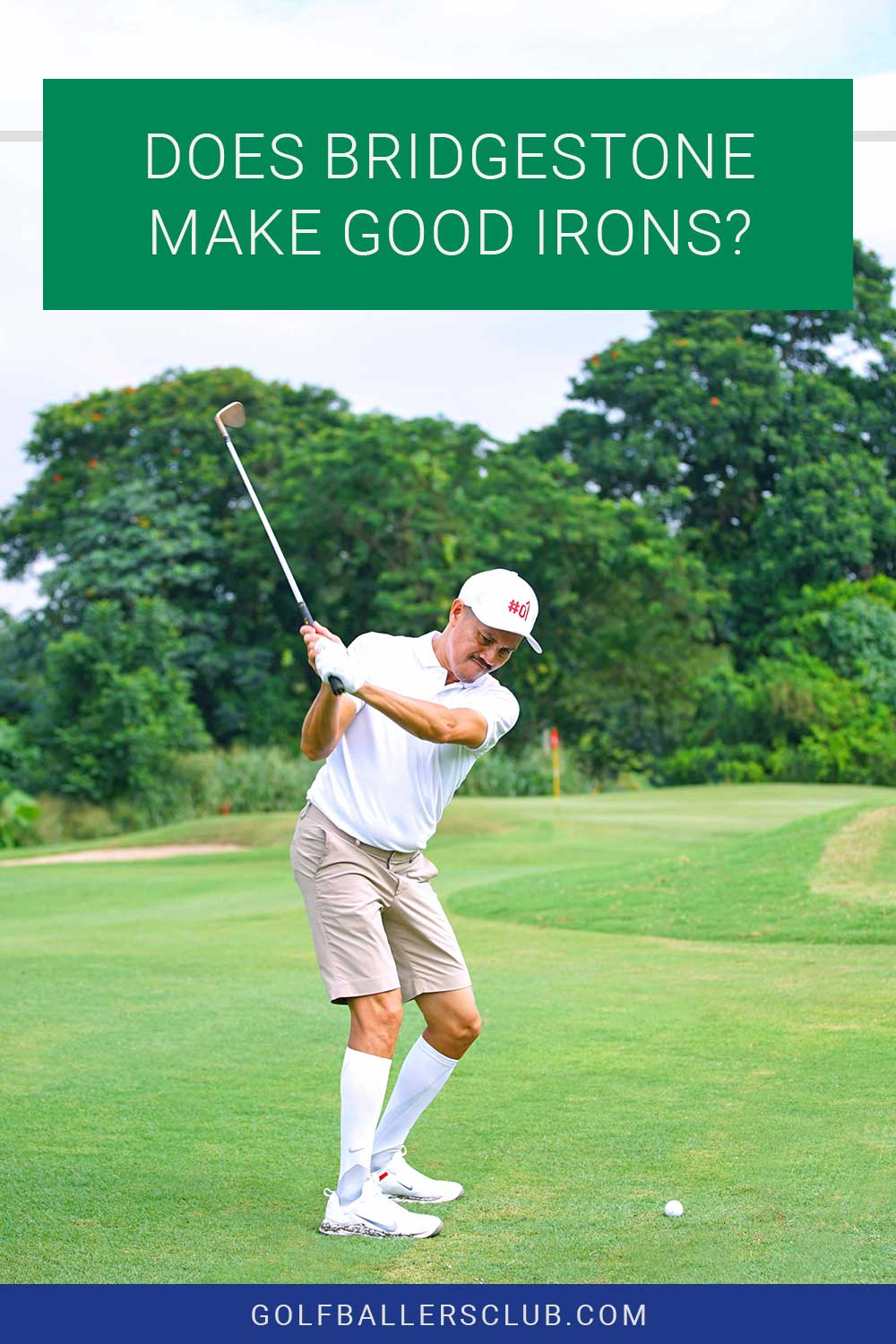 Is Bridgestone a Popular Choice?
As far as Bridgestone has come within those forty years or so, there is not much more that can be done to prove the quality of their products.
At this point, the brand has teamed up with pro tour players, including Fred Couples, Jason Day, Matt Kuchar, Lexi Thompson, and Tiger Woods.
That being said, the popularity of this company is limited, especially when compared to the larger Golfing Manufacturers, but it does have the advantage of being in the F1 Racing market.
Regarding priority, Bridgestone focuses on its Golf Ball production, which gets more attention than its clubs.
Is it a Good Choice for Beginners?
These clubs are perfect for beginners and designed to improve a newer player's game, which is why they have been labeled as 'improvement clubs.' That being said, there are going to be a few tour pros that use Bridgestone products, mostly the balls.
Amongst the reviews of the casual and intermediate players, there is consensus that the irons do help improve performance.
As Tiger Woods put it, the spin of the ball is better than ever, which is everything when approaching the green; as a reminder, Tiger is known for having a ridiculous backspin when hitting the green.
How Much Does it Cost on Average?
Well, there are going to be about three different prices to speak of: A package of the ball, a set of irons, and a full bag. To start, a package of Bridgestone PowerDrive golf balls will cost about eighteen dollars, and the Tour B RXS golf balls will reach upwards of fifty dollars.
The next product to speak on would be irons, which have a wide range on auction sites and online stores, that will cost between one hundred and twenty-five dollars and upwards of about a thousand five hundred dollars.
From there, a player can pair a Driver. Newer models will retail in the hundred dollars to hundreds of dollars range.
What is Their Most Popular Model?
Let us just put this into general knowledge, Bridgestone is known for having quality Golf balls, which would be the company's most popular product.
As for the model of clubs that are most popular, we start with the Driver J33R, which continues to this day to be a quality choice for Golfers.
The next more popular model of clubs to cover would be the irons, which has been, up to this point in time, would be the J33 Forged Combo. They have been out since 2012 and continue to provide solid play even in the second-hand markets.
Is it Worth Buying?
To get to the point, yes, these clubs are most certainly worth purchasing. They have been labeled an improvement club for a reason, not to mention that the value-cost ratio is most certainly in favor of the customer/player.
If you need any more reason to purchase these irons, remember that Tiger Woods uses Bridgestone, there must be some quality when a Hall-of-Fame talent like him becomes part of the team.
Of course, newer sets will be expensive, but if you look online through the auction sites and at the second-hand stores, if you find a Bridgestone, consider buying it.
Final Thoughts on Does Bridgestone Make Good Irons
This Golfing Equipment Manufacturer is best known for creating fantastic golf balls, which were said to have helped improve the spin on Tigers approach shots.
This is all anyone needs to know when it comes to using Bridgestone golf balls, but their trick is to identify the best of Bridgestone's clubs.
As mentioned, the J33R Driver is one of the more popular clubs on the market and continues to get good reviews from the golfing community. In addition, the J33 set of irons will be one of the top options for a Bridgestone model set of golf clubs.