Lazarus vs. Bombtech
Last Updated on June 14th, 2023
We may earn commissions for purchases made through links on our site. Learn more on our about us page.
There are going to be slight differences; Bombtech was created out of a passion for Long Drive competitions which led to the development of the Grenade Driver.
Lazarus was sparked by the realization that most quality clubs will cost a golfer an arm and a leg. Therefore, the company was founded on cutting out the middleman and making a good set of clubs affordable.
Both companies are relatively new, having been founded in 2012 and 2017, respectively; each young company has something to prove, Bombtech with its Drivers and Lazarus with its irons.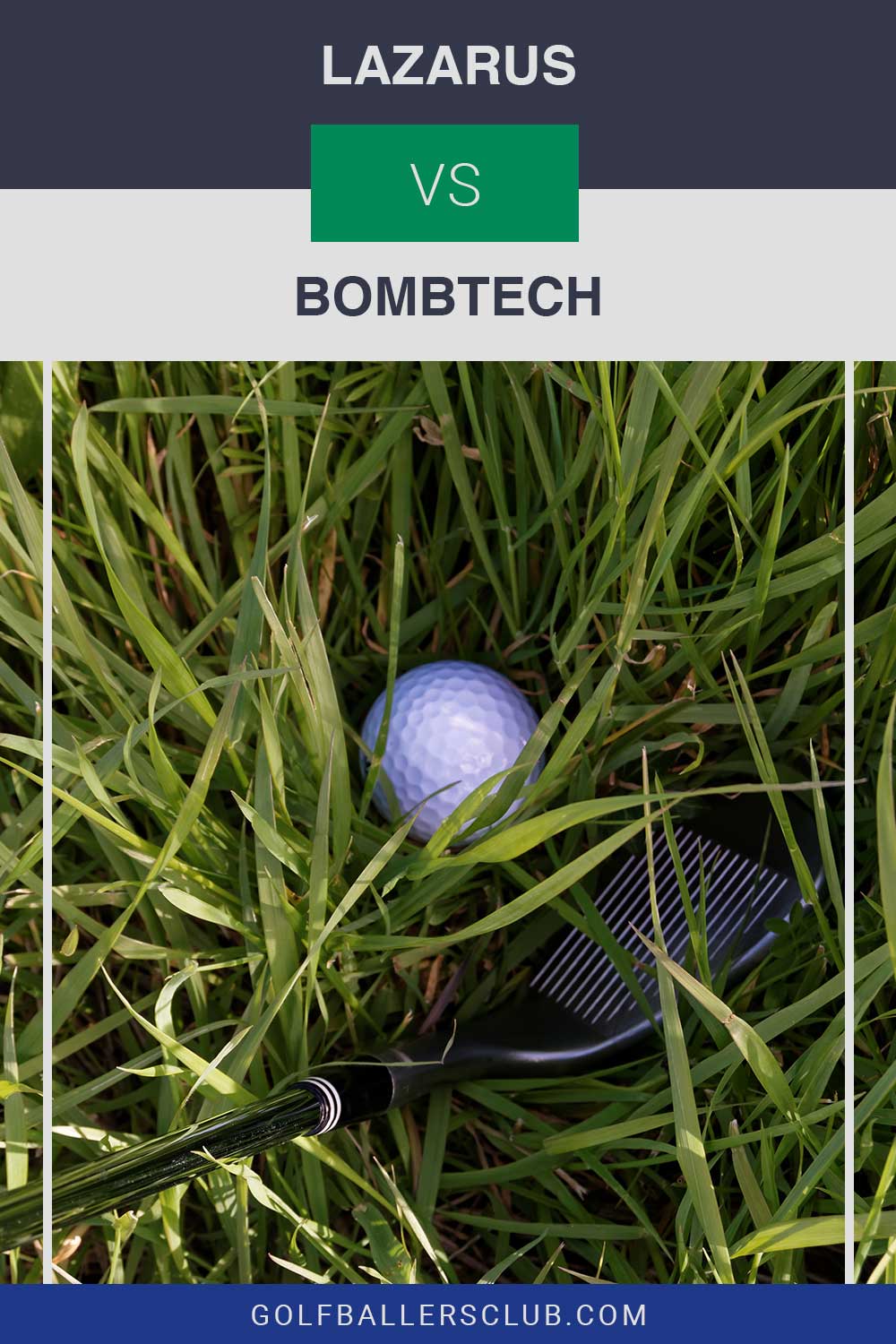 Which One is Sold More?
Throughout the years, Bombtech has grown from manufacturing drivers to producing multiple varieties of irons as well as drivers. Since then, the company has moved more units than most mid-tier producers, which has led to its growth.
Lazarus has only had a short amount of time in which to make noise and get into the market, to which they have caught the attention of the lower budget golfer and those players looking for a new set without the price tag.
What are the Differences?
The main differences between these two brands will be the Driver's quality and the status of being a replica manufacturer. Bombtech was, as mentioned before, created out of a man's passion for smashing a golf ball as far as possible, and thus the Grenade Driver was born.
The Grenade offers extreme distance off the tee box, allowing everyone the chance to feel like John Daly. Lazarus has been labeled as a replica producer, and the irons have an eerie similarity to Callaway's Mavrik irons, as do some of the other units.
Pros and Cons: Lazarus vs. Bombtech
The Lazarus brand has an excellent line of quality and high-performance clubs that come at an affordable price. The cons are that the durability of the irons is low, with wear and tear showing after just a few uses.
Bombtech will produce an accurate, long-distance hitting, solid striking Driver that can change a player's game by allowing a player to get down the course in fewer strokes. After that, the short irons, well, are not titlists of a Vokey design, and a miss hit will show that.
Price Range: Lazarus vs. Bombtech
These two clubs were made for the middle-income person who enjoys the game of golf, the player who could barely piece their bag together.
Both brands are relatively affordable, and Bombtech has complete sets of irons for less than two hundred and fifty dollars and Grenade Drivers that will range between fifty and over one hundred or so dollars.
Lazarus golfing company does not have a driver but offers fairway woods and hybrids where individual pieces cost between fifty and one hundred dollars. Complete sets of irons will be around the price tag of two hundred and three hundred dollars.
Final Verdict: Lazarus vs. Bombtech
These two mid-tier golf club manufacturers were created for two different reasons; Bombtech was born out of the desire to drive the ball the farthest ever. The Lazarus was founded to combat the incredulous prices the major manufacturers charge for their clubs.
If you are looking for a Driver, it is affordable and can bomb the ball down the course, and a Bombtech Grenade will be just that. On the other hand, suppose you need wedges or irons that will be inexpensive and have similar qualities to the major brands.
In that case, Lazarus will have solid replica builds that will perform well on the course and have the style to look good while out there.
The point of creating a brand in the mid-tier golf club industry is to provide the everyday golfer with a product that performs well but will not cost a year's wages.
This will lead to the creation of brands like Bombtech and Lazarus, both of which specialize in certain aspects of the game.
Bombtech will create a Driver that will cause the ball to explode off of impact. Lazarus focuses on fairway play, with sets of hybrids and fairway woods along with irons and wedges that will not break the bank.
Whether you are a casual golfer or intermediate level, these two club brands will be a solid option.