What Size Golf Clubs Should A Five Foot Woman Use?
Last Updated on June 14th, 2023
We may earn commissions for purchases made through links on our site. Learn more on our about us page.
Woman wThere are specially designed clubs for more petite women; therefore, a person at five feet or around would want to purchase the smaller club set. These clubs are designed to be about one inch shorter than the standard LPGA tour women's golf club.
With the shorter clubs, a smaller petite woman can then get a full swing and enjoy the game without having to deal with the frustration of having clubs that are too big for them. In response, most major golf club manufacturers have created the Petite Ladies set.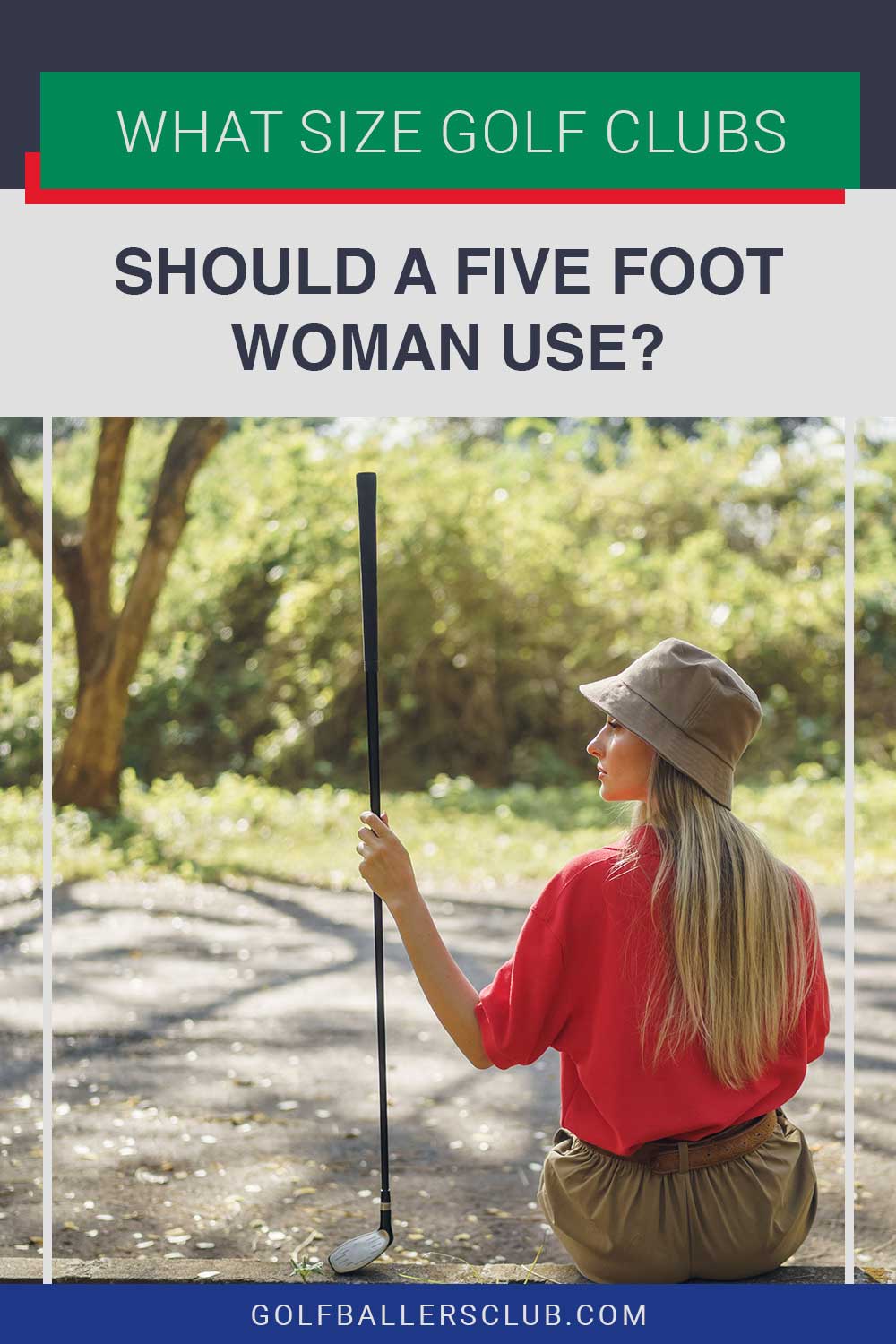 How Do You Pick the Right Clubs?
There are a few things to consider when selecting the right golf club; first and foremost, consider the golfer's body type and height. A taller person will need longer clubs, and a smaller person will need shorter clubs.
There are also those with stronger appendages that can drive a ball, but the opposite type of golfer will rely on their accuracy more than strength. With that in mind, think about these elements when making a choice on a set of clubs:
Hand strength and grip thickness
The shaft length, flex, and stiffness
Club head design
Is it the Same for all Five-Foot Women?
The to-the-point answer is no; not all five-foot women are built similarly. Some women have thicker physique, which comes with more strength, and then you have thinner women, depending on shot selection and accuracy.
Therefore, considering the above elements, the more petite women will have the same things to consider when selecting a set of clubs.
They must view the specifications that make up their unique bodies, measure up, and get the "tailored" golf clubs to maximize their skill set.
What Does it Depend On?
The individual that is getting fitted, to be blunt about it, is primarily what this all depends on. The clubs that will be used should feel comfortable in hand and sound on the swing, allowing the player to feel balance onto the follow through and hopefully turn into results.
Then again, the results will all depend on the player's skill level and ability to improve as a golfer. It does not matter how expensive, well-made, or specifically designed the clubs are if a player cannot hit the ball.
Either way, it all depends on the player in question.
Sizes you Should not Pick
Have you ever seen a seven-foot man using a petite set of clubs? If you ever do, make a clip, it will likely go viral, and I would like to see that for a good laugh.
A taller person should buy longer clubs, as a smaller person would buy shorter clubs. This is because of the nature of the golf swing; to get full extension of the arms, the club must fit within the pendulum formed at the shoulders.
If you are a finesse player, do not buy power clubs; look for accurate clubs with an additional pop added at the sweet spot.
Popular Golf Clubs for Women
There are differing opinions when it comes to the best clubs to get, but there are some standard club sets that appear in results across the web. To make it simple, after roaming the search engines, here is a list of five popular club sets that women are playing with now:
The Callaway Women's Strata Complete Sets (annual sets)
The Cobra Women's Fly Series Complete Sets (annual sets)
The TaylorMade Kalea Premium Complete Sets (2022 Set)
The Tours Edge Lady Edge Women's Complete Sets (annual sets)
The Wilson Women's Ultra Plus Complete Package Golf Set (annual sets)
Final thoughts on What Size Golf Clubs Should a Five Foot Woman Use
When selecting a set of clubs, the most important thing to consider is to focus on your best assets and maximize them. For example, use your height, strength, or accuracy to your advantage by fitting clubs that match your physical attributes.
Women of a shorter nature, around five-foot tall, should focus on getting petite club sets specifically designed for the more miniature human. Again, the results show a better experience on the course and higher levels of satisfaction for the women using them.
Remember this: each individual has differing abilities and physical attributes; pick a set of clubs that will fit the golfer's body type.