TaylorMade Speedblade vs Speedblade HL
Last Updated on June 14th, 2023
We may earn commissions for purchases made through links on our site. Learn more on our about us page.
TaylorMade Speedblade has a Speed Pocket at the base of the club head designed to improve club speed and swing forgiveness. The difference between these two club models would be the HL or high loft engineering for the appley name Speedblade HL.
The newest models have an improved Speed Pocket which has been widened and lengthened to promote better launch angles, carry through the air, and a quick stop decent grade when approaching the green. 
This is TaylorMade carrying on a tradition of consistent improvement and innovation, all while producing some of the best irons in the game today.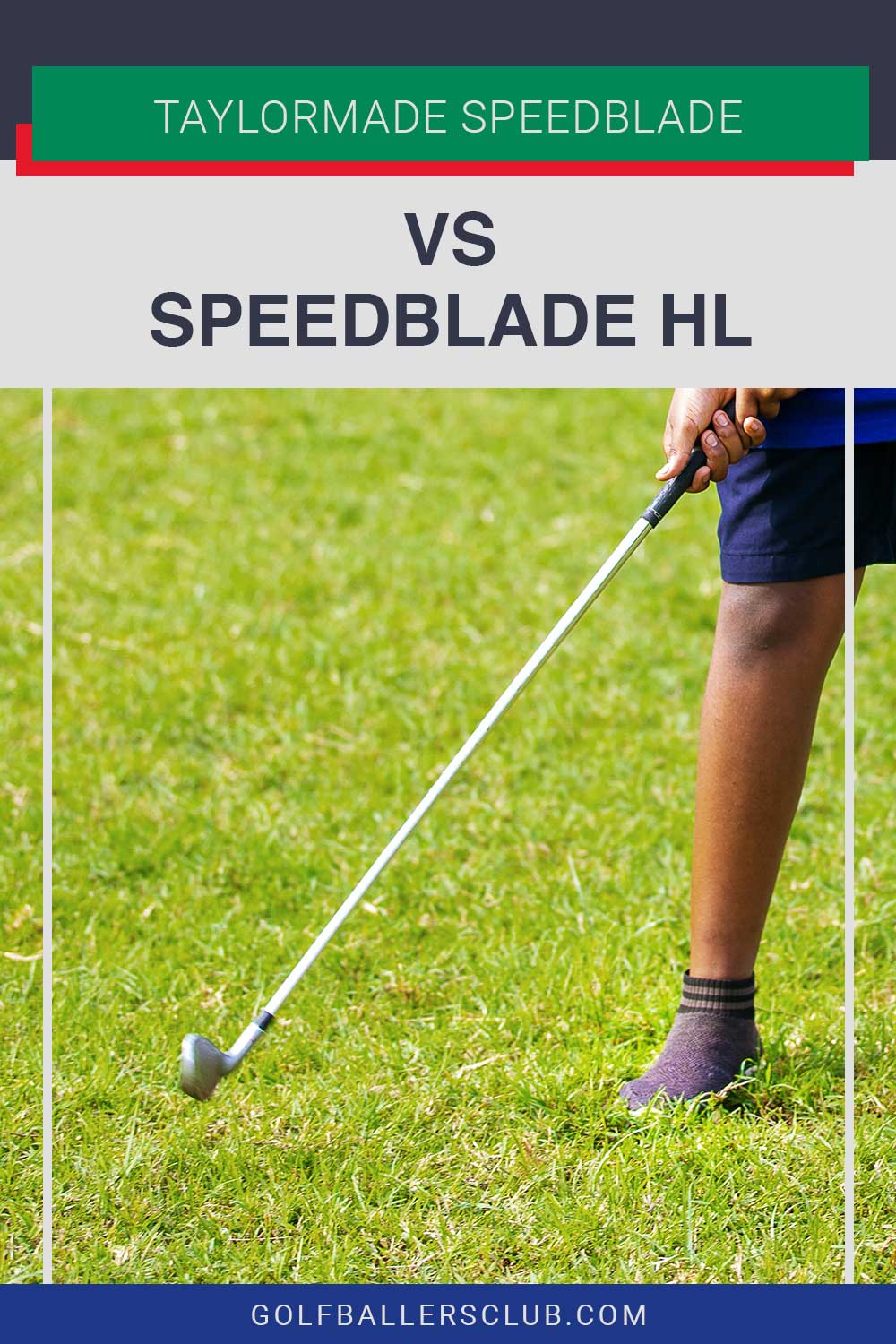 What's the Difference in Quality?
As far as differences in quality are concerned, there are very few differences, to begin with. For instance, the main design variation would be the TaylorMade Speedblade HL. It was given a lower center of gravity, making the launch angle higher and the ball's flight stronger.
Both iron models are made from the same metal polymer. As a result, they have similar forging processes, but another clear difference is the standard comes with the speed pocket incorporated in the longer irons, while some HL models do not. 
Just know that going with a TaylorMade club will be made with the highest quality possible.
What's the Difference in Size?
The most noticeable size difference that stands out between standard Speedblade irons and the HL, higher loft editions are the clubface thickness. 
The HL versions will have a thinner clubface than the standard line of clubs; there will also be literal inches of difference in shaft length on the TaylorMade grips and club shafts.
A golfer, or those self-called golf enthusiasts, will see significant differences in the custom-made sets of clubs for professionals. 
The grips, shafts, and such to accommodate the different loft settings will be essential for the different body types of each player, along with certain shot types.
Pros and Cons: TaylorMade Speedblade vs Speedblade HL
To make it simple, I will break this down into two parts. First, the Standard Speedblade irons were designed to be longer iron with an excellent feel and reduced vibration upon impact.
In addition, there is the Speed Pocket technology, which allows golfers to have more flex, faster ball speeds, and more consistent shots. Finally, the HL, higher loft, Speedblade clubs will have those same pros but pair that ability to get high altitude with each shot.
Cons include a high price tag, which can be a bad fit for inevitable player swings and counterproductive on the course.
Price Range: TaylorMade Speedblade vs Speedblade HL
These two models are consistently about the same price since the introduction of the Speedblade in October of 2013. Most individual clubs, single irons, or wedges run between forty-five dollars and one hundred and twenty-five dollars.
Entire used sets can be priced between three hundred and twenty-plus dollars at Play it Again and upwards of a thousand dollars depending on condition and usage on various other shopping sites. 
The average lifespan for an iron that has been used consistently would be around five years or so; therefore, keep that in mind when looking for irons made over those five years.
Final Verdict
In the end, the Standard clubs have been reviewed as the higher quality clubs with high levels of forgiveness, shot consistency, and better ball out of the box. 
However, the Higher loft clubs benefit a particular player, and not every golfer swing will benefit from this ball flight.
Each golfer must have a natural swing pattern that affects the ball at impact. Depending on the height and other physical factors, the HL model could be the better choice; even certain shots might require a higher lift.
Especially concerning the taller obstacles on the course, such as trees and other prominent natural features. 
When looking at the TaylorMade Speedblade series, the unique feature would be that of the Speed Pocket technology, which has proven to be effective in improving players' shots. 
Another thing to consider is getting a higher loft club for those pesky shots in which a tree is always involved or an elevated green is.
In the end, the Speedblade irons from TaylorMade are more affordable than a set of Mizuno Hot Metals. They will have similar quality on the golf course. 
As many will tell you, the most surefire way to know if a club is a good fit would be to get a swing evaluation and fitting done by a professional.