What Year Did Adams A7 Irons Come Out?
Last Updated on June 14th, 2023
We may earn commissions for purchases made through links on our site. Learn more on our about us page.
Adams Golf is a reliable brand that offers high-quality products to enhance any golfer's game and experience. The Adams A7 irons were launched in the 2009 golf season and offered golfers a high-quality set of hybrid irons to improve their game.
These irons offered the most updated technology that Adams Golf had at the time, and they were styled similarly to their Idea line, which many golfers were already familiar with. The Adams A7 Irons were irons that were known to be reliable.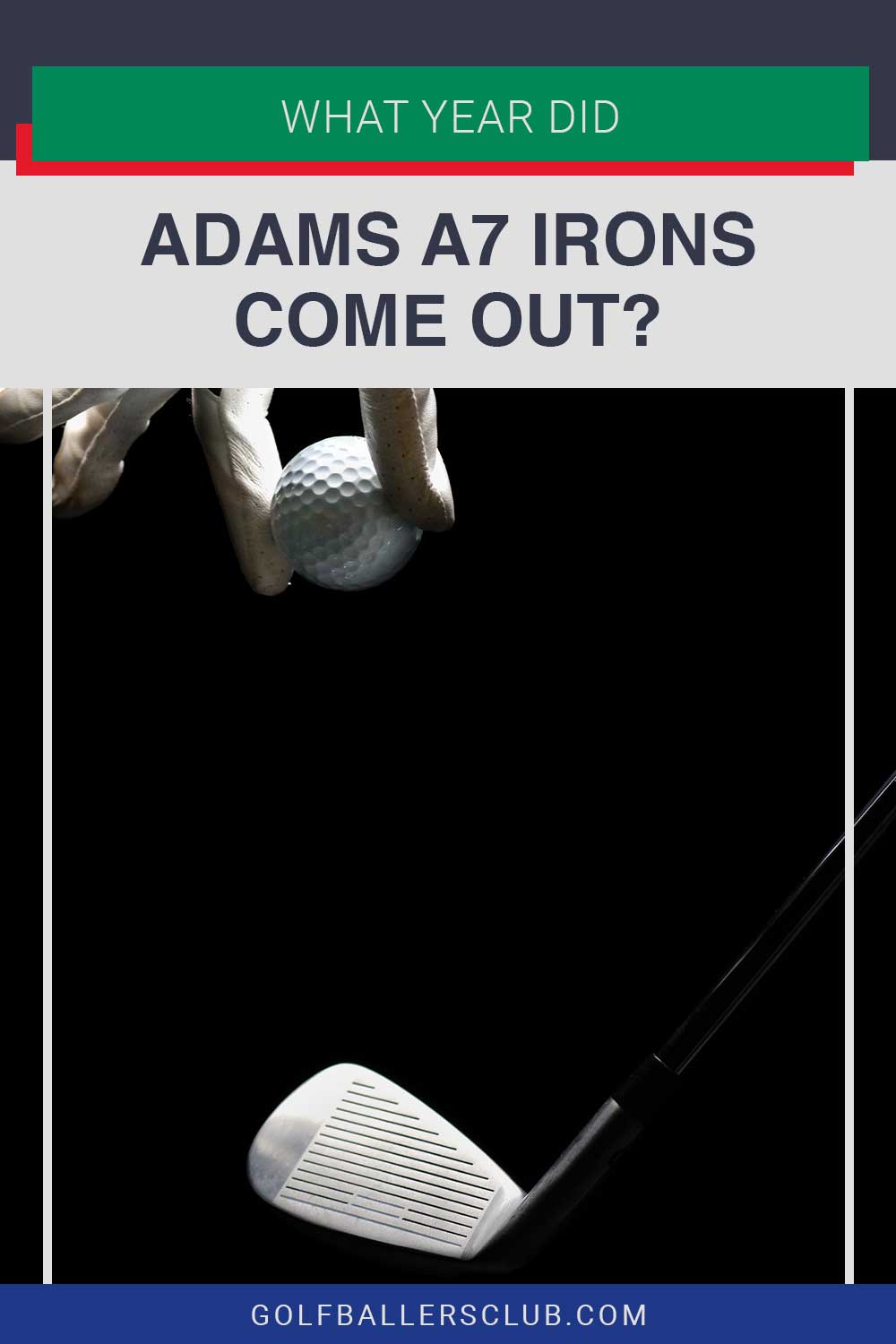 Is it Still Good?
There are newer iron sets that you can purchase, as golf equipment companies like Adams Golf produce new products nearly every season, but you can find these irons second-hand to use for your game.
The Adams A7 irons are irons that could still be used to play and would be considered good irons to use. They originally retailed for $599 for steel and $699 for graphite, and some sellers list the set for around $100.
So if you want to purchase a high-quality iron and save some money, going for the A7 irons is a good option despite them being released in 2009.
What are the Best Features of it?
The best features of the Adams A7 irons all come down to design. The hybrid irons were designed to optimize forgiveness and scoring ability. The 5-iron has a 13% thinner face compared to previous models to help improve distance.
The other irons have a dual cavity with a stabilizer bar to give the golfer forgiveness and feedback. These irons were designed to enhance the golfing game of any golfer.
Their goal was to increase scoring ability and forgiveness, and improve the overall experience of average and professional golfers.
Are These Clubs a Hybrid?
The A7 Irons came out with a few hybrid irons. The set does not include hybrid irons, but a set was released with hybrid irons. The Adams A7 Hybrid irons could be purchased individually for $199 if the golfer did not want to buy the whole set.
The irons combined all of the best features of their predecessors in the Idea line from Adams Golf. They were designed with the newest technology to optimize the iron's ability to improve distance and scoring ability.
Can You Still Buy it?
Since the Adams A7 irons are out of production, you can no longer buy them from retailers. You can find them second-hand from anyone looking to sell their old irons. It is significantly cheaper to purchase irons second-hand from a site like eBay or Mercari.
You can find the set for around $100 from thrift sites if you scour the internet for a set of A7 irons.
What are its Flaws?
There were not many noted flaws in the Adams A7 irons. Some golfers stated that the irons were a bit light, but that comes down to personal preference. The irons were crafted with the newest technology to help golfers enhance their game.
Some golfers also avoid hybrid irons, but others prefer to use them. Every golfer might have a different idea of premium quality as far as irons are concerned. Preference has much to do with which set of irons someone is willing to purchase.
Final Thoughts on What Year Did Adams A7 Irons Come Out
The Adams A7 irons were released in 2009 and offered some of the newest and best technologies for golfers to enhance their game. The irons were designed to increase storability and improve distance and other aspects of the game.
You can still find these irons second-hand, as they have been out of production for quite some time. You can look to eBay or other thrifting sites to find a set of Adams A7 Irons if that is the set you have decided to replace your current irons with.