What Year Did Mizuno MP 33 Irons Come Out?
Last Updated on June 14th, 2023
We may earn commissions for purchases made through links on our site. Learn more on our about us page.
Mizuno is a Japanese sportswear and gear company founded in Osaka in 1906 by Rihachi Mizuno. They have been providing quality irons for over one hundred years, and the brand has been reliable in the golfing community.
The Mizuno MP 33 irons were released in 2002. The iron has a blade that closely resembles the MS-3 blade off of the top, but it has an updated profile and sole grind from the side. This iron has been available for your golf outings for twenty years.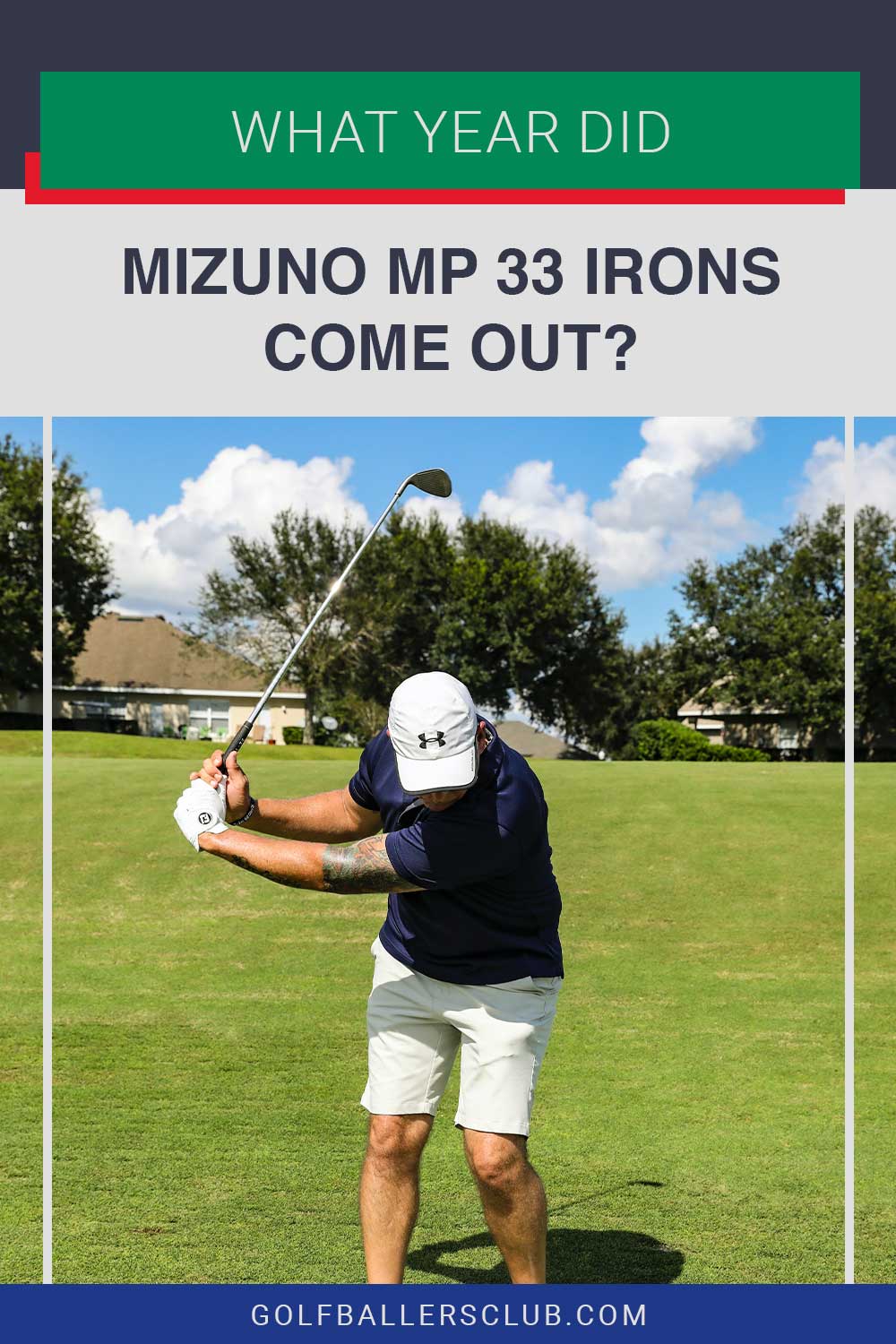 What New Features Did it Have?
Forged blade golf clubs are designed to provide golfers with ideal ball flight control. For this reason, most clubs have a similar design. You will find designs from decades ago that are comparable to recent designs.
The Mizuno MP 33 had a few updates to set it apart from other golf clubs. The updated Mizuno MP 33 iron features included a different center of gravity.
This club had a center of gravity lower than other clubs to help get the ball in the air easier. This made it a fan favorite among the golfing community.
What Was the Quality Compared to Other Brands?
The quality of this club was comparable to other brands on the market. This iron was known for its ability to help you direct the ball. It was not a blade designed for forgiveness so much as workability.
But at the time of manufacturing, it was a comparable iron. Clubs with this design tend to be similar because they are all intended for the same purpose.
Was it Overpriced?
The Mizuno MP 33 irons are only available second-hand, considering they have been out of production since 2006. They still go on eBay for over $200. When the iron came out in 2002, it was on the more expensive range of golf clubs.
Mizuno is a high-quality brand, and the price of their clubs respects that. For example, the Mizuno Pro 221 starts at $1500 on their website.
Some might consider that overpriced, but to the right golfer, it is worth it. If you are willing to invest in high-quality, premium products, it might be worth looking into a premium brand for golf clubs.
What Were the Best Specs of Mizuno MP 33?
The Mizuno MP 33 had specs that set it apart from other clubs on the market at that time. The curved muscle back blade was a fan favorite. The iron also had a lower center of gravity that stood out across the market.
The Mizuno MP 33 was an iron that stood out in the golfing community and is still talked about today for its quality.
From Which Materials Was it Made?
The Mizuno MP 33 was manufactured from Mild Carbon Steel. This iron was crafted from select 1025 mild carbon steel and used Mizuno's grain flow forging technology.
This technology was designed to ensure that the feel and quality of the club were consistent across all of the club heads.
In addition, this durable material was intended to last. To this day, there are still Mizuno MP 33 clubs in use, and they can be purchased second-hand if you wish to gold with these high-quality golf clubs.
Final Thoughts on What year did Mizuno MP 33 irons Come out
The Mizuno MP 33 was a high-quality golf club that provided a premium experience for golfers at the time. It was released in 2002 and was on the market to purchase new for four years. It was Mizuno's longest-running model.
It was also available for customer orders for several years after that. Twenty years later, it is still discussed as one of the best golf clubs for direction. Its lower center of gravity helped get the golf ball in the air easier.
It was made of mild carbon steel and is still available to purchase second-hand on the internet if you are willing to do a quick google search.