When Did Adam's Idea Irons Come Out?
Last Updated on June 14th, 2023
We may earn commissions for purchases made through links on our site. Learn more on our about us page.
The history of Adams Golf Clubs starts with the company's founding in 1991; after buying Dave Pelz Golf in 1987, they began by custom fitting business to fit every golfer type, size, age, and ability out at Hank Haney Golf Ranch. 
In 1998, Adams entered the Wall Street marketplace and continued to grow, gaining popularity until 2012.
During that year, the owner Barney Adams decided to sell the company to Golf Equipment Manufacturing giant TaylorMade. Through TaylorMade, a golfer can purchase and play with a brand new set of Adams Idea golf clubs.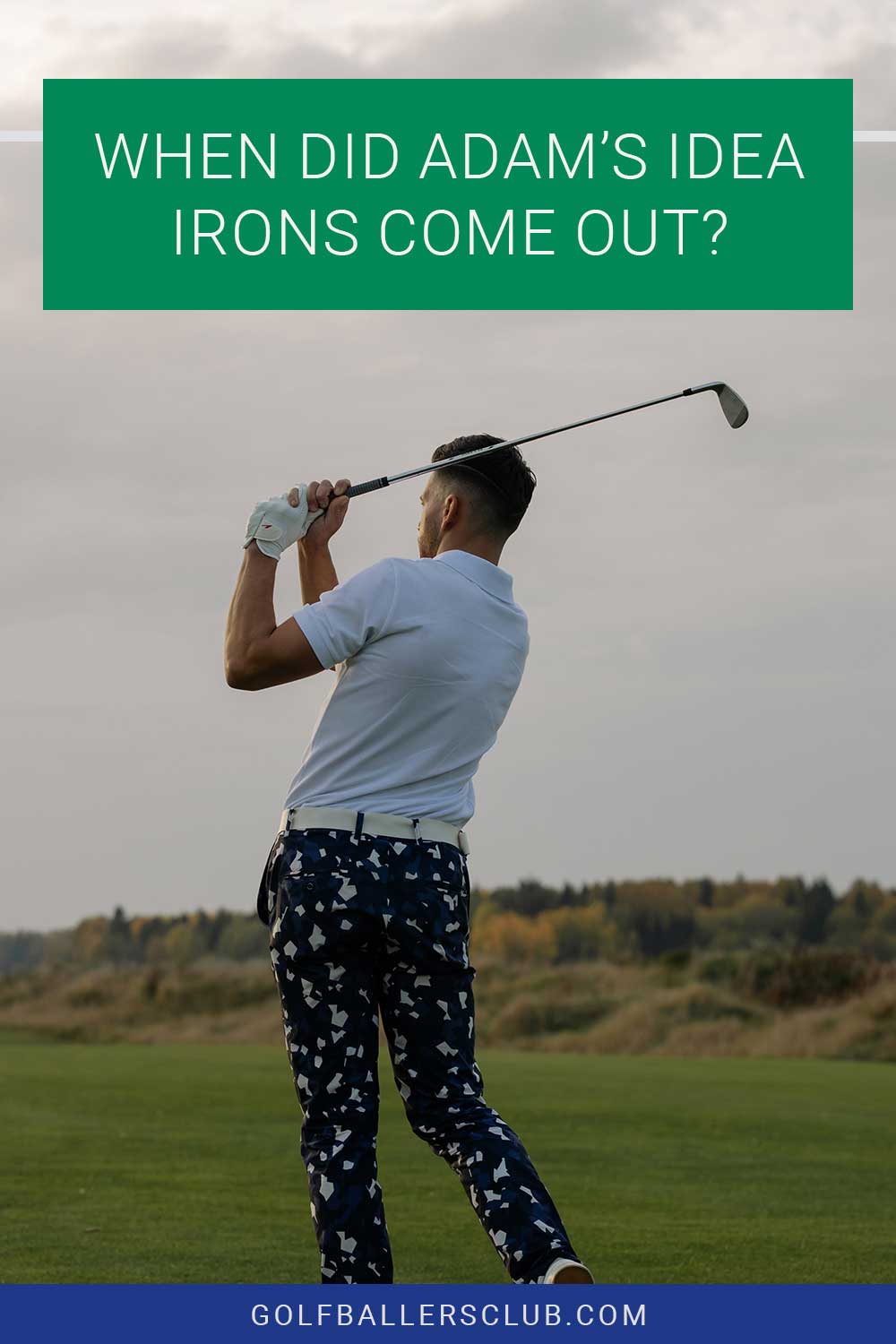 Which Club Model was the First One?
The company started as a small market custom club fitting service provider. In about 1995, Adams Golf officially released the Tight Lies Fairway wood, which exploded in popularity throughout the entire golfing community. 
Think of it like this: in 1994, the company made under one million dollars in sales. Still, by 1997 the company was taking in over thirty-six million dollars. 
The golfing community, both amateurs and professionals alike, eventually led to the signing of PGA professional golfer Nick Faldo. But, for a better decade, the company only needed this one product line.  At the turn of the millennium, another product was released.
When was Adams Idea Founded?
Straight to the answer, the Adams Golf Company was founded in 1991 by Barney Adams out near Dallas, Texas. The founder was born in Syracuse, New York, on March 24th, 1939, and started his journey with golf at the age of fourteen.
He was given an entire ride at Clarkson College on an Athletic Scholarship to play golf and graduated in 1962. Then after a lengthy stint working in various positions around the Silicon Valley area, he joined Dave Pelz Golf in Abilene, Texas, in 1983.
Only after Dave Pelz Golf sold all assets to Barney, that Adams Golf was born.
Who Owns it Now?
In 2012, after earning such honors as Manufacturing Entrepreneur of the year from Ernst & Young, Barney Adams sold his company to TaylorMade Golf Company. 
As a result, a golfer may purchase a set of Adams Idea irons, Tight Lies woods, or any other golf clubs to this day.
The TaylorMade company offers Adams clubs in retail stores. In addition, it continues to produce the Tight Lies Fairway woods, which still are made as 3-woods and 5-woods. 
After two decades of producing some of the most reliable fairway clubs on the market, it will be interesting to see where the company goes from here.
Did the Quality Remain After Being Sold?
Adams Golf Company made it on reliable fairway woods, to which Tight Lies became a golf household name. With nearly every passing year, there have been innovations to Adams golf Tight Lies series, including the creation of Drivers and an iron set.
In not so short, TaylorMade is known for quality products; they snatched up Adams golf as soon as they could and have allowed them to create and innovate alongside the game itself. 
Now, as they were, the Tight Lies Fairway three and five wood are worth having in the bag when out on the course.
Are Adams Irons Overpriced Now?
After shopping around the internet and reading reviews, there is a consensus that the clubs are well-priced. Moreover, they retain a fair amount of value after years. 
Still, entire sets run over a few hundred dollars, and even brand-new sets hardly get over a few hundred dollars. So in short, no, there are far more expensive clubs that make the price of Adams iron seem affordable. 
There are a few examples of Adams blue special edition left-handed clubs worth around three thousand five hundred dollars on eBay. But, again, with any big purchase, take the time to research the product, and most times, the best deal will reveal itself.
Final Thoughts on When did Adams Idea Irons Come Out
If you are an avid golfer, you have sat on the fairway, looked at a 3-iron or 4-iron, and thought about how a fairway wood is perfect in this situation. 
The Adams Golfing company designers must have had that same thought in mind when producing the 3-wood and 5-wood Tight Lies Fairway series.
Thus, why became so popular in the 90s; it was an innovation that allowed certain players to stretch the first two shots to hit the green or close enough on a par five to create a birdie putt.
So, if you have the money and a passion for the game of golf, consider getting a Tight Lies golf club for the bag.